Have you ever thought of just letting go, going absolutely bonkers with no care whatsoever about the things around you? But then, you realise that its impossible to do so, because of the effect it might have on everyone around you. Sucks doesn't it?
  Which is why there's something called controlled insanity, you go mad with a few close friends, drink, smoke crap, have a mad ass party, then in the future, talk about the good old days. In fact, we should do this more often, going mad occasionally is a great stress reliever. You laugh your balls off (if you have any), until your sides ache, throat goes sore, feel like puking, have a back ache etc. Having all the above symptoms at the same time guarantees it was damn good fun that will keep you smiling for weeks. People would probably think you were smoking weed or something due to that perpetual smile thats plastered on you face.
  In creative terms, I suppose the insanity is usually suppressed. Boss doesn't allow too mad an idea to be fitted into work, even though its mad enough to get a positive reaction. I would say being your own boss would be good, freelance, check out the reception of madness in work. Basically this would apply more to graphical jobs, again, an assumption of mine.
  I'm a watchmaker, I admit though, I could be one of the more volatile, mad ones around. If there are any mad ones around at all. I admire the work of MB&F, thats Maximilian Büsser and Friends to the people who don't know. His work, his timepieces, are like controlled insanity.
  The HM1, a juggernaut of a watch, 4 barrels, 7 days power reserve, a central tourbillon, 81 working jewels.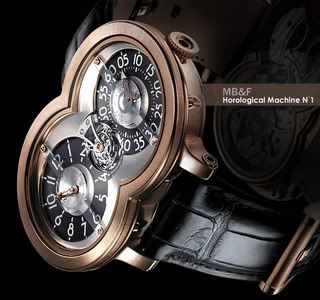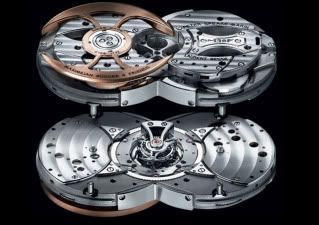 First view of it (me just reading magazines and going online) gives a good kick in the head and makes my jaw drop. I thought only mad people with money would buy that, it must be true. It is art on a wrist. Something only watch aficionados would love and appreciate.
  Heck, give me a bottomless bank account and I would get myself one too. 
  Then he came out with the HM2. A Jean-Marc Wiederrecht/Agenhor designed and powered by a Girard-Perregaux oscillator and gear train. The Balance oscillates at 28,800 bph. 22K Rose Gold Double Hakken automatic winding rotor. 349 components including 44 jewels ( a headache to assemble, trust me).
Functions:Left dial: Retrograde Date and Bi-Hemisphere Moon Phase. Right Dial: Jumping Hours and Concentric Retrograde Minutes
The Watch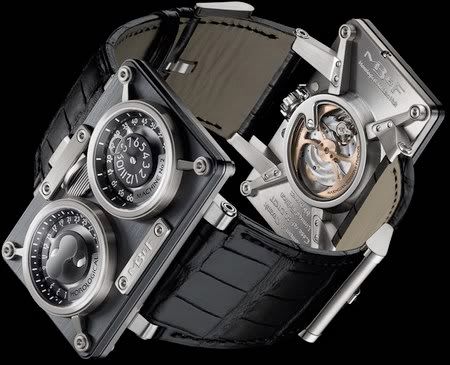 The Movement
Next came the HM3, looking like a spaceship. It is visually stunning, it smack you on the head, you stare at it in disbelief. You think, is this a toy or a watch? I might probably run around with it, making it shoot at imaginary bad guys, but I'm whack, so its normal.
2 versions are available: the Starcruiser (cones in line with arm) and the Sidewinder (cones perpendicular to arm)

Both versions available in 18K White Gold/Titanium or 18K Red Gold/Titanium.
Screwed-down crown
Number of case components: 53 - Starcruiser, 57 - Sidewinder
Movement

Three-dimensional horological engine designed by Jean-Marc Wiederrecht/Agenhor;
Girard-Perregaux oscillator and gear
Balance oscillating at 28,800 bph.
22K Rose Gold battle-axe shaped 'mystery' automatic winding rotor
Hour and minutes information transmitted via ceramic ball bearings to laser-cut hands.
36 functional jewels, 304 components.
Functions: Hour and day/night indicator on one cone, Minutes on second cone, Date around the movement

The HM3 watch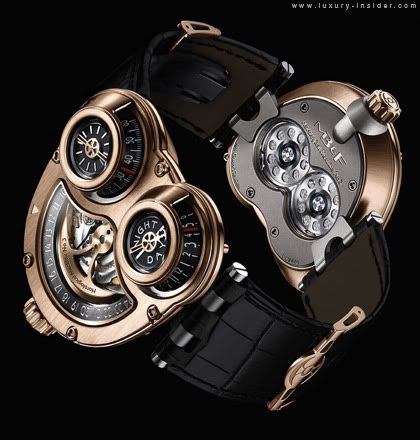 Movement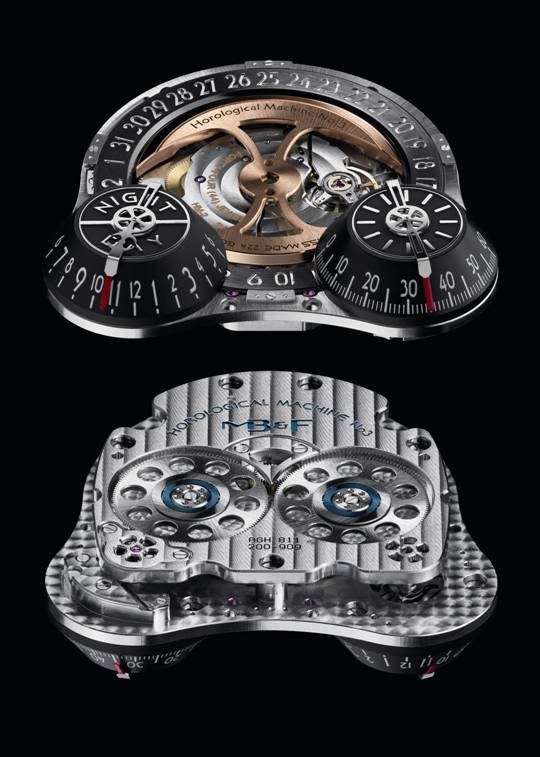 Looks like a damned battle cruiser, doesn't it?
So you now probably know, MB&F produces movements that are extraordinary. What is the HM4 going to look like?
Well, pictures of the movement are all over the web. The call it the Thunderbolt, calibre for HM4. There's no watch yet, movement only. 2 winding stems? Central balance wheel. Each winding stem to a barrel I suppose. You will see 2 barrels on either side of the Balance wheel.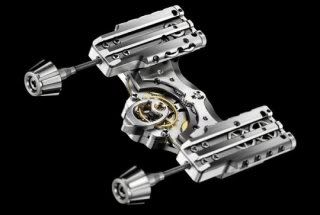 Look at the second picture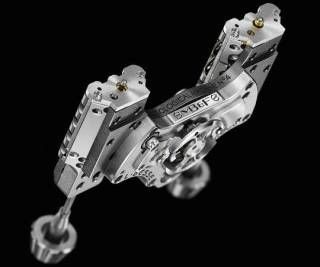 See the brass shaft/pinion at each end of the movement, looks like a vertical time display, hours and minutes at either side. Like wheels rolling on the side. Hours and minutes able to be set independently because of 2 winding stems. Underside of the movement you see what looks like a tiny double-axe shaped rotor with small pinion. Could be the automatic winding system.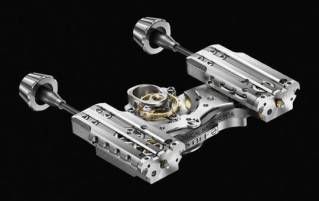 This is just a speculation/assumption/wild guess etc. You get the idea. I can't wait for it to be revealed. Fingers crossed, I'm sure it's going to be a stunner. Hope you enjoyed reading this.
Pictures taken from The Watch Lounge and various other internet sources, non of these pictures are of my own. I would apologise for copyright infringement and remove this if an email or message is sent to me. :)